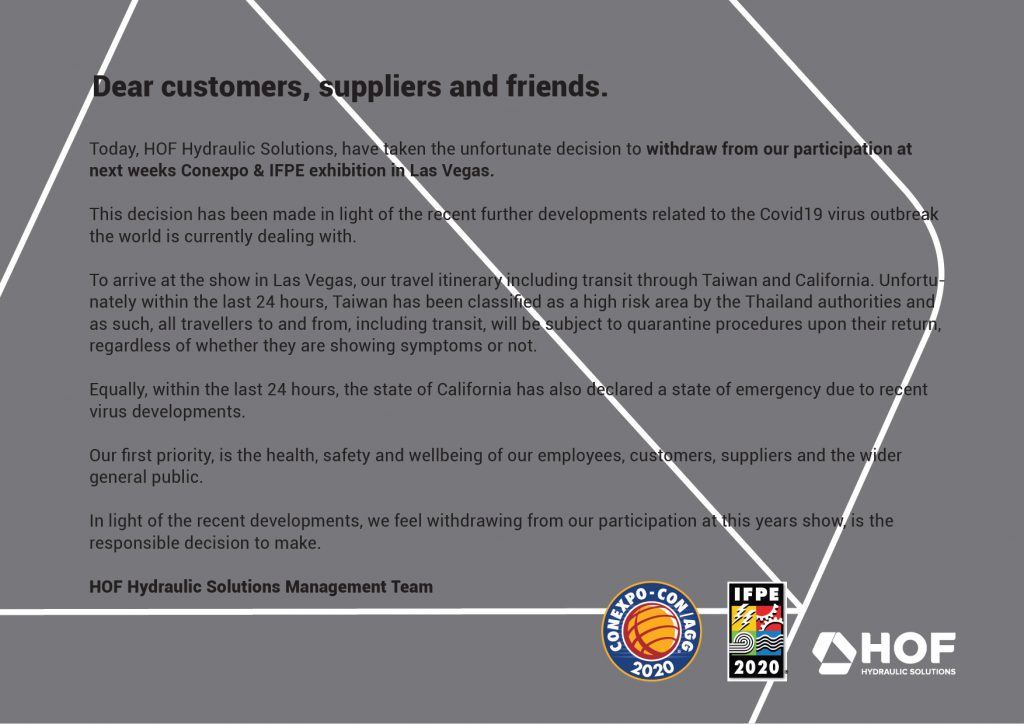 Dear Customers, Suppliers and Friends,
Today, HOF Hydraulic Solutions, have taken the unfortunate decision to withdraw from our participation at next weeks Conexpo & IFPE exhibition in Las Vegas.
This decision has been made in light of the recent further developments related to the Covid19 virus outbreak the world is currently dealing with.
To arrive at the show in Las Vegas, our travel itinerary including transit through Taiwan and California. Unfortunately within the last 24 hours, Taiwan has been classified as a high risk area by the Thailand authorities and as such, all travellers to and from, including transit, will be subject to quarantine procedures upon their return, regardless of whether they are showing symptoms or not. Equally, within the last 24 hours, the state of California has also declared a state of emergency due to recent virus developments.
Our first priority, is the health, safety and well being of our employees, customers, suppliers and the wider general public.
In light of the recent developments, we feel withdrawing from our participation at this years show, is the responsible decision to make.
Best Regards,
HOF Hydraulic Solutions Management
Your Partner For A Better Tomorow